Deep inside the veils of rain.

Kenneth Eriksson, from Lifebook 11
---
kenneth.eriksson@visalarna.pp.se

I have created another address which is quite easy to remember, and the address is:

kexan@telia.com This E-mail server automatically transfers every mail to the address kenneth.eriksson@visalarna.pp.se. So do feel free to use it. I will receive the mail!
---
A Couple of Useful Things:
---
Newspapers, Magazines and News:
---
Here you can find everything besides the ungoogleable:



---
Runes, Archaeology and Vikings:
---
Literature History and Ancient Texts:
---
Miscellanea:
---
A Couple of Friends and Other Acquaintances


On the New Law on Personal Information and its Effect Upon Our Constitutional Freedom of Speech:
Fortunately, Sweden is beginning to recover some common sense. In a radio interview the head of the Swedish Bureau for Inspecting Computerized Information stated that it is allowed to mention a person by name on a homepage, as long as you do not utter criticism against that person without having asked the person beforehand. We Swedes, owning the constitutional freedom of speech, thank him most humbly!
Thus, I will now present the names of my friends and acquaintances again.

The UN Declaration of Human Rights, Article 19:

Everyone has the right to freedom of opinion and expression; this right includes freedom to hold opinions without interference and to seek, receive and impart information and ideas through any media and regardless of frontiers.

The new Swedish law is rejected by this article.
---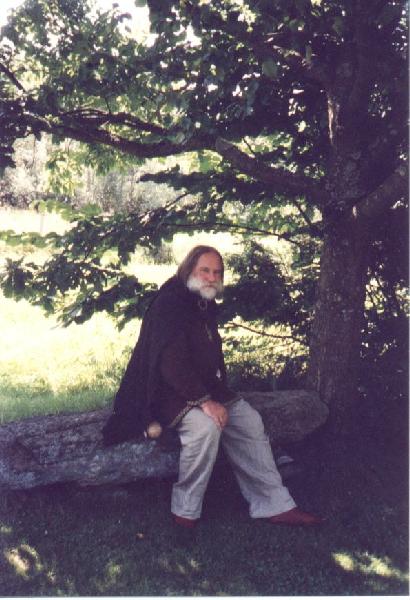 Me under my oak in August 2003. Photo: Inger Ericson
This page was last updated August 23, 2017. It is a credit to Sweden that the interpretation of new law on personal information has been modfied slightly, thus a little, but still, advancing our constitutional freedom of speech.
Kenneth Eriksson

E-mail:

kenneth.eriksson@visalarna.pp.se.